Welcome to Oceanside, California, where beach vibes and coastal charm create the perfect backdrop for your next adventure. And guess what? We've got just the thing to make your exploration of this vibrant city even more incredible. Welcome back the gO'side Shuttle, your ultimate ride for cruising through Oceanside with ease. Whether you're a local seeking a stress-free commute or a visitor eager to uncover the city's hidden gems, gO'side Shuttle is here to whisk you away on a seamless transportation experience like no other. Get ready to embrace the Oceanside spirit as we dive into the features, perks, and must-visit destinations served by gO'side Shuttle. Let the good times roll!
Convenient and Reliable Service
GO'side Shuttle prides itself on offering a convenient and reliable transportation service that caters to the diverse needs of passengers. The goal wait time for the gO'side Shuttle is 15 minutes or less and with a fleet of modern and well-maintained shuttles, they ensure that you can travel quickly, comfortably, and safely throughout the city. Whether you're heading to the beach, or exploring downtown Oceanside, gO'side Shuttle has you covered.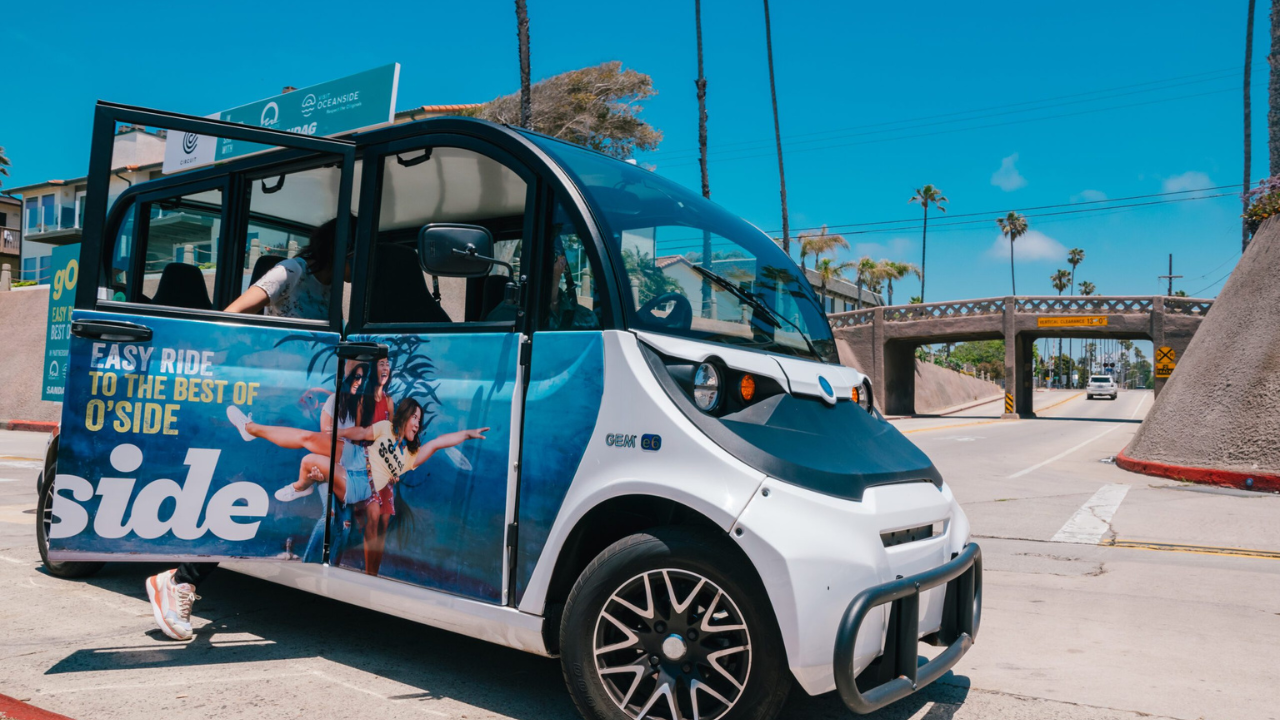 Encompassing Service Area
One of the standout features of gO'side Shuttle is its encompassing service area, connecting key destinations within Oceanside. From the Oceanside Pier, to the charming Oceanside Harbor, to the bustling downtown district, the shuttle service efficiently navigates the city, saving you the hassle of driving and parking. The service area includes everything west of Interstate 5 from Oceanside Harbor to Vista Way. This comprehensive area makes it easy to explore Oceanside's attractions, shopping centers, restaurants, and more. And for those times you want to explore beyond the city of Oceanside, you can always utilize the shuttle to take you to the Oceanside Transit Center where you can catch the San Diego Coaster and other trains to the cities beyond.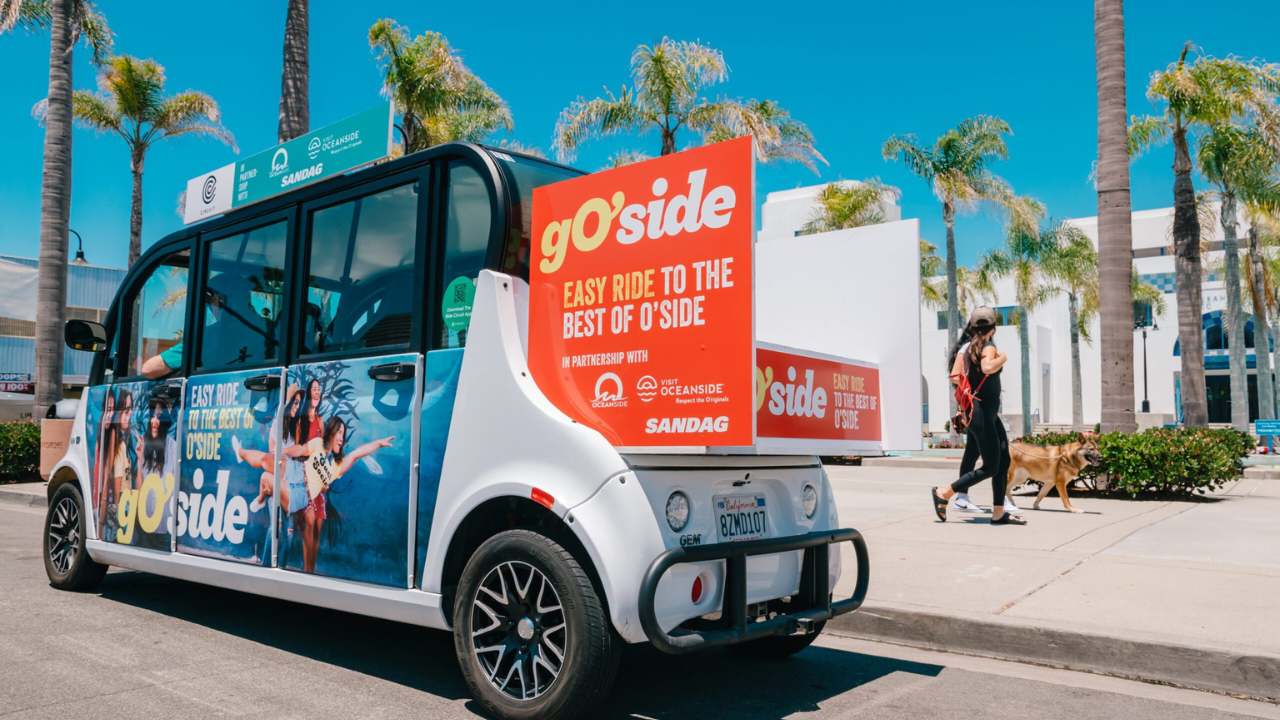 Eco-Friendly and Affordable
GO'side Shuttle not only offers convenience but also takes pride in its commitment to environmental sustainability. By utilizing shared transportation, the shuttle service contributes to reducing traffic congestion and because the shuttles are fully electric vehicles, they are also reducing carbon emissions. Moreover, the affordable fares make it a budget-friendly option for both residents and tourists, allowing you to explore Oceanside without breaking the bank. The cost per ride is just $3/person maxing out at $6 for groups of more than two riders.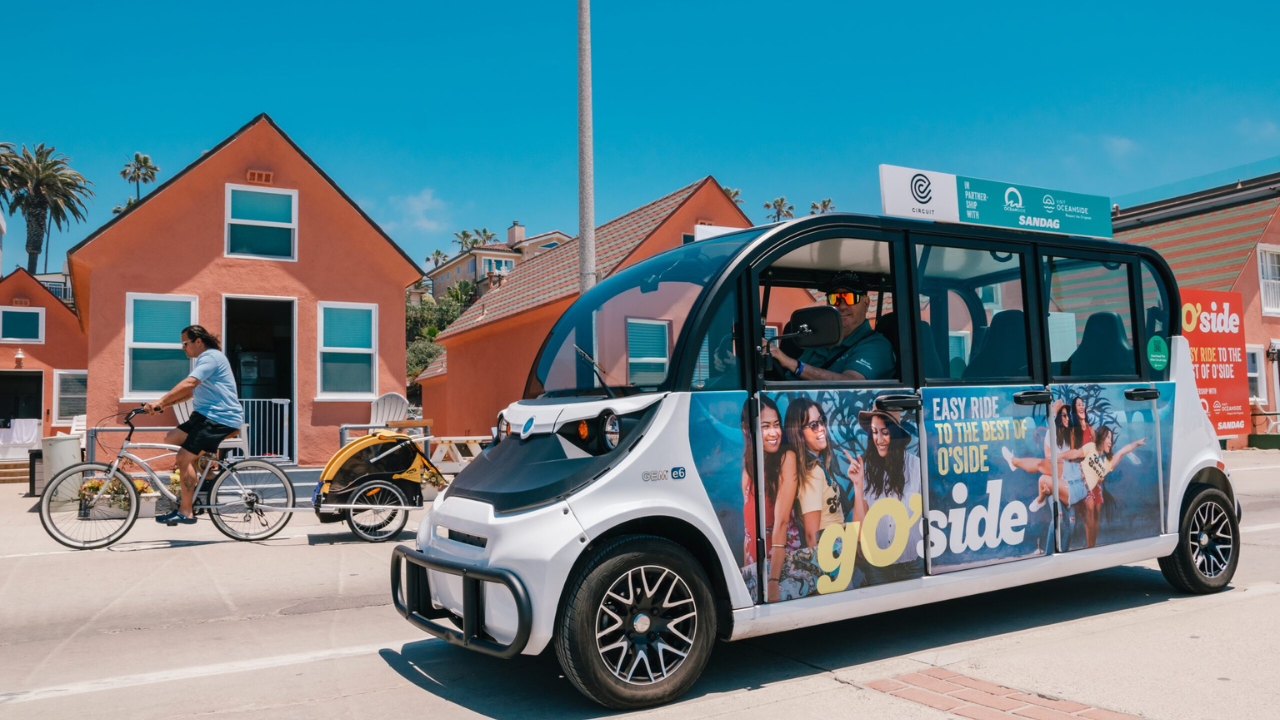 Insider Tips and Local Insights
Beyond providing transportation, gO'side Shuttle goes the extra mile by offering insider tips and local insights to enhance your Oceanside experience. The shuttle drivers are often seasoned locals who can recommend hidden gems, popular events, and the best times to visit different attractions. Engage with the drivers, strike up a conversation, and discover the city's secrets while you travel.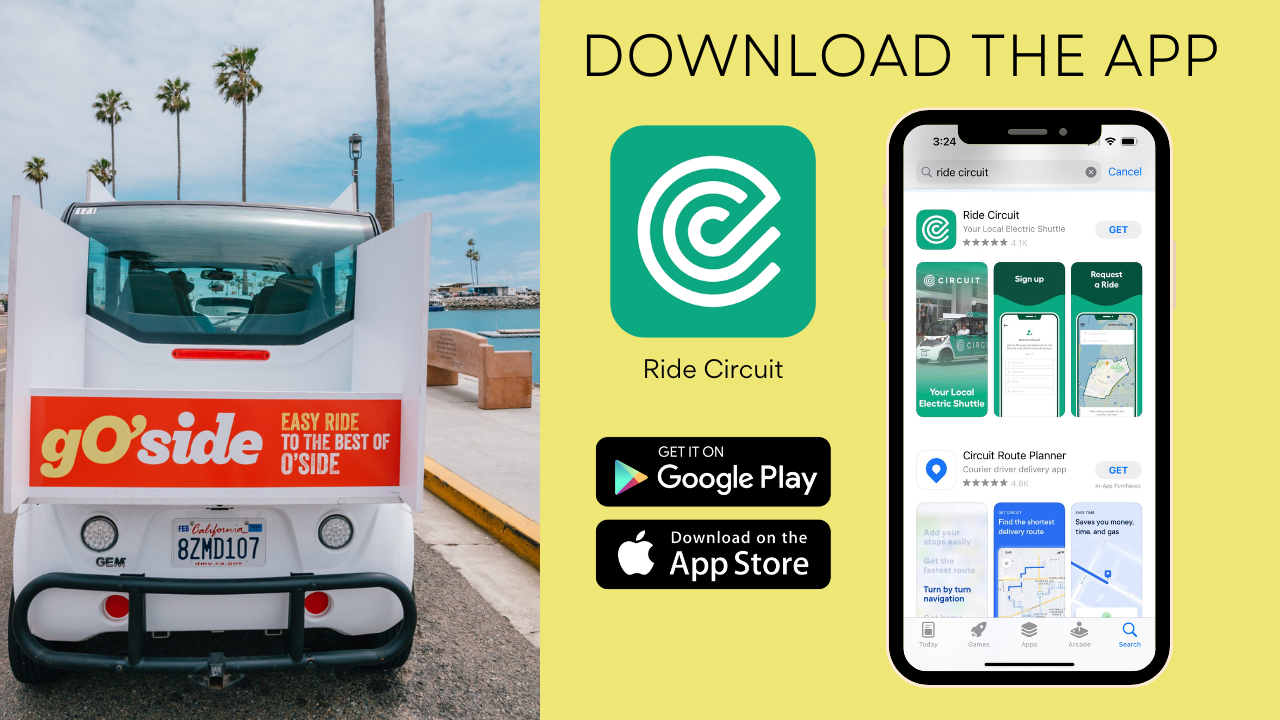 How to Book the gO'side Shuttle
The easiest way to use the gO'side Shuttle is to utilize the Ride Circuit app. Below is a step by step guide.
1. Search "Ride Circuit" in your app store
2. Download the "Ride Circuit" app and Sign Up
3. Choose "Oceanside" under "Locations" in the menu
4.Then, enter your pick-up location and select your drop-off location.
5.Select your number of passengers and if you need a wheelchair-accessible vehicle
6. Insert your credit card information
7. Request your ride!
You can then get updates and see your shuttle's path to you inside the app. A gO'side Shuttle will pick you up and drop you off at your destination. Along the way, the vehicle may pick up other passengers who request a ride, similar to Uber pool.
If you do not have a smart phone, the shuttles can be booked with a phone call instead at (760) 547-7870.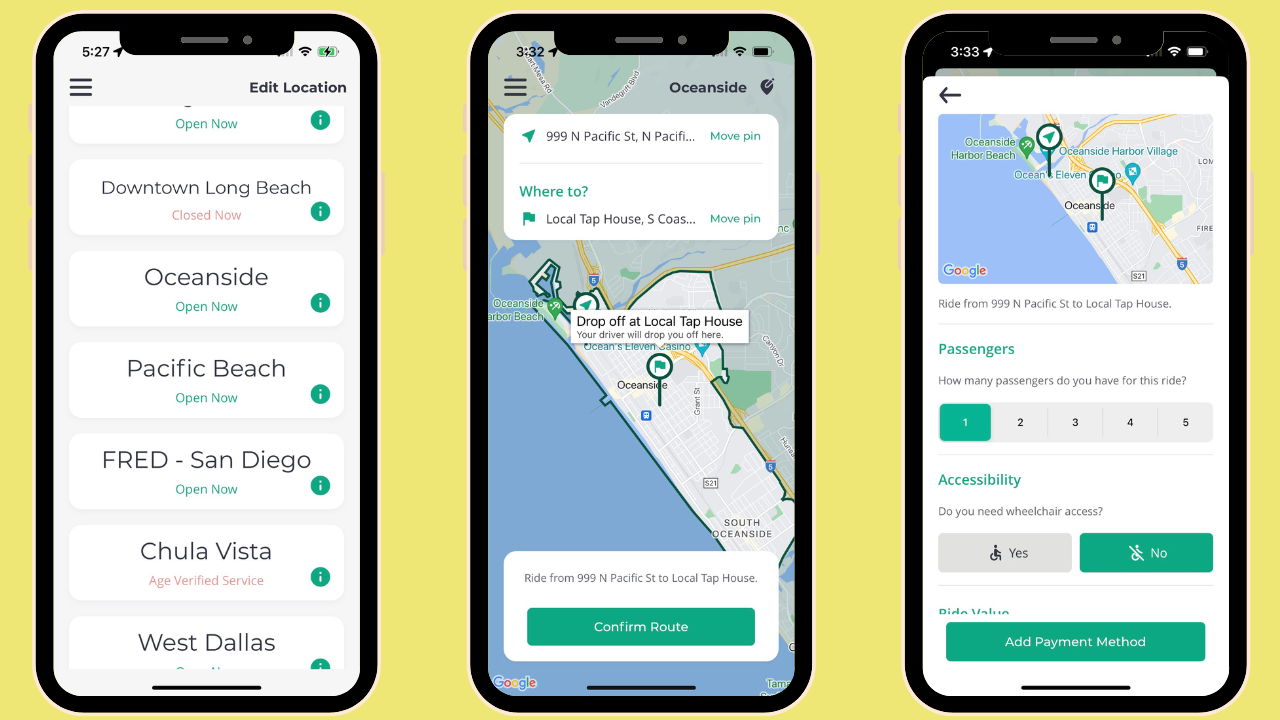 Easy Ride to the Best of O'side
With the gO'side Shuttle, exploring Oceanside, California, has never been easier. From the convenience and reliability of the service to the extensive route network, this shuttle service caters to your transportation needs while immersing you in the beauty and charm of the city. Whether you're a resident looking for a hassle-free commute or a visitor eager to explore Oceanside's hidden treasures, gO'side Shuttle is your perfect companion. So hop on board, sit back, and let gO'side Shuttle take you on a memorable journey through Oceanside's vibrant streets and stunning coastline.
For more information vist ridegoside.com or click here to visit their FAQ page.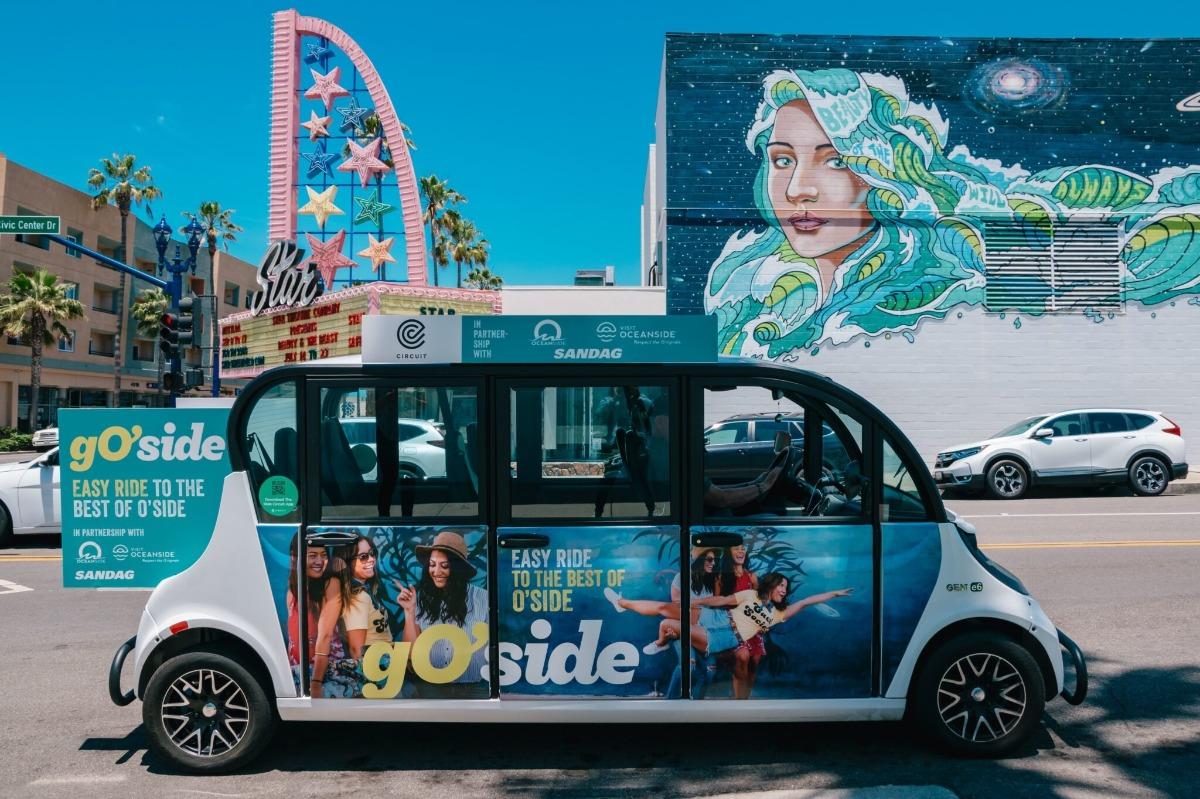 **Photos by: Visit Oceanside and the City of Oceanside