Summer is upon us! And that means the busy rental season for North Coast Village. Whether this is your first Summer visiting North Coast Village or you've been coming for years, we want to give you a list of North Coast Village reminders and updates from the HOA to make sure you are prepared for your stay.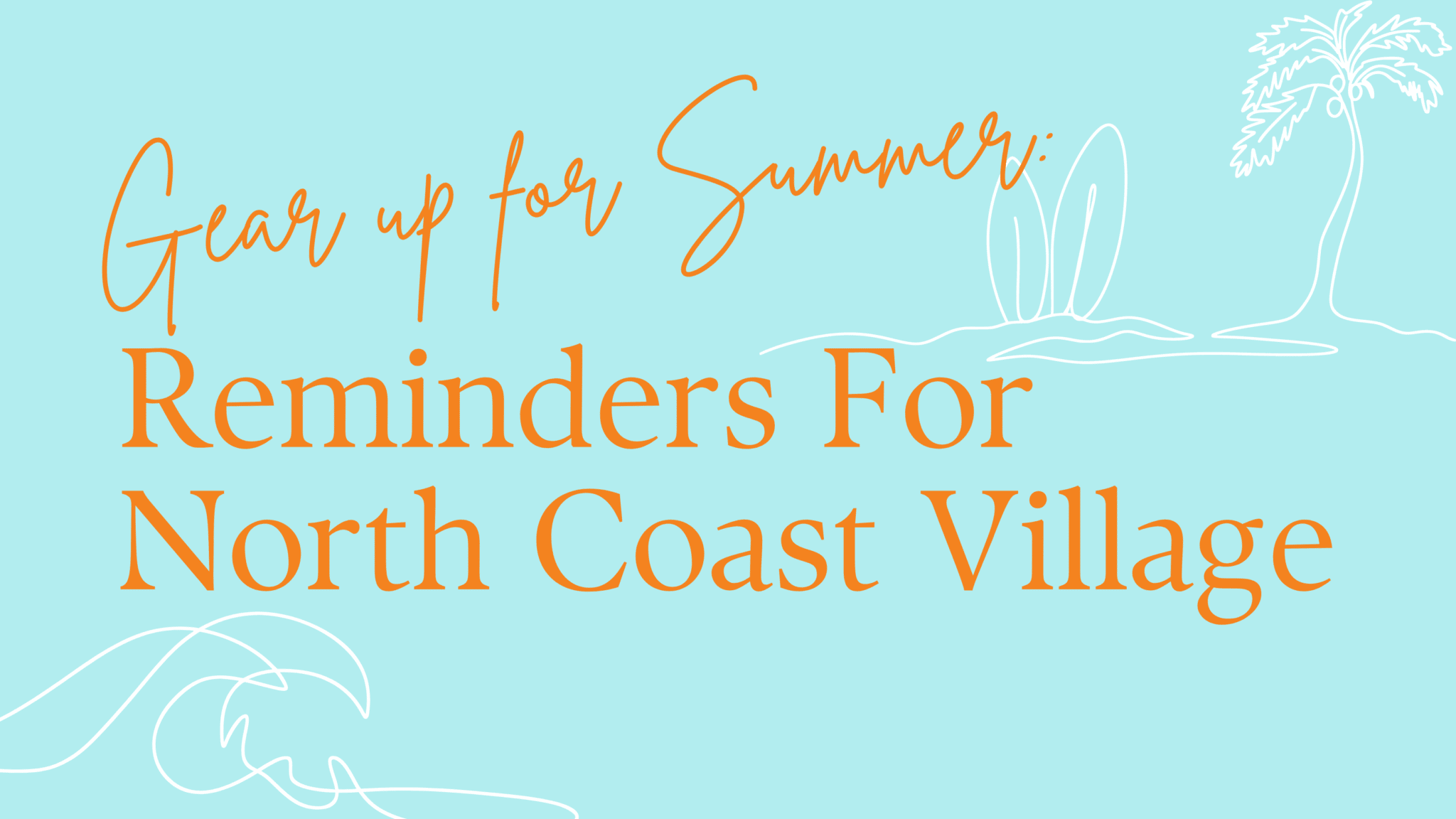 North Coast Village Reminders and Updates for Guests
1. Bike storage is limited.
Wanting to bring a bike with you to North Coast Village? You may need to reconsider. The HOA let us know that the bike storage closets are very full this year. There is limited extra storage for rental guests. If you are wanting to do some biking around town or on the beach we suggest you rent instead. Ride Oside is a great local business that offers fat tire electric scooters and Ebikes which are a blast to ride around town. Show them your booking confirmation with us and receive a 10% discount.
2. It is better to rent equipment rather than bring it with you.
If you have your own ocean and beach equipment like kayaks, paddleboards, etc. It may be tempting to pack them along with you for your oceanside beach vacation. However, like bikes, there is no place to store these items at North Coast Village so we recommend renting instead.
3. The front lot is 30 min parking only through the entire Summer.
As you can imagine, parking at the beach in the Summer is a hot commodity (pun intended). As such, the HOA would like to remind all guests that the front check-in lot is 30-minute parking only. This lot is really only to be used while picking up your check-in packet. We also want to share that this lot does still fill up fast. It is not very large and there are many people visiting NCV for the Summer. Rather than parking to pick up your keys, we recommend dropping someone in your party off to pick them up. Then you can pick them back up again and head to your parking space in the underground garage once you have your keys.
4. No early check-ins
With so many reservations and people coming to North Coast Village during the Summer months the HOA has asked all property managers to limit early check-ins as well as giving advance notice. To make the lives of the HOA and our reservation staff just a bit easier during this hectic time, we have made the rule that no early check-ins will be allowed from Memorial Day to Labor Day. No exceptions. If you arrive earlier than your check-in time we suggest you spend time down at the harbor or at the beach until you are able to check in to your unit.
5. Occupancy limits – $100/day fine
North Coast Village has strict occupancy limits based on unit size. The limits are:
4 persons max in a 1-bedroom
6 persons max in a 2-bedroom
8 persons max in a 3-bedroom
We list these limits on our website with each unit. They are also in the contract you receive after booking with us. Renters will be fined $100/day by the North Coast Village HOA if they find these limits are being broken.
6. No riding scooters, bikes, skateboards, etc in garages or the complex.
Although the complex paths and open garages seem like the perfect skatepark, these types of activities are not allowed in North Coast Village and will be subject to a fine.
7. New washer & dryers
The HOA has recently installed new washers and dryers in the complex. They are no longer coin-operated and use an app or prepaid card instead. The app is free to use but the card costs $5 to print and requires a $5 minimum to be put on the card at purchase from the machine. To learn more information about the new machines, check out our blog post.
8. No Children under 14 in the gym. Ages 14 – 18 accompanied by an adult.
The onsite gym is not a place for young children. The HOA rule states that no children under the age of 14 are allowed to be in the gym at all and ages 14-18 must be accompanied by an adult. Violators will receive a citation and be fined.
9. No unsupervised children in game rooms.
The game/activity rooms are also areas of the complex where children must be supervised by an adult.
10. Large vehicles are not permitted in the underground garages
Although an assigned parking space comes with your unit, not all vehicles will be able to use the underground garage space. parking is tight to maximize available spaces. The vehicle may not extend more than 21 ft from the wall to the end of the vehicle (includes bike racks and hitches). The parking garage has a clearance of 6'6″. Also note that parking is for vehicles only – no trailers, RVs, etc. If you are planning on bringing a vehicle that is outside of these height and length limits you must pay to park in the outside city lot across the street. The cost is $5 a day for the city lot.
11. Valuables can be stolen.
Although North Coast Village is a much safer environment compared to other places to stay, it is not exempt when it comes to theft and robbery. Please remember to not leave any valuables in your car or out in your condo. Also, make sure to keep your doors locked at night and when you are away.
Questions?
If you have any questions about any of these North Coast Village reminders and updates feel free to contact our reservations staff by emailing rent@on-the-sand.com and we will be happy to answer them for you!
About On-The-Sand:
On-The-Sand Vacation Rentals has been family-owned and operated since 1997. It all started when Scott & Vickie Warr fell in love with North Coast Village and bought their own condo for family getaways then decided to rent it out over two decades ago. Scott & Vickie founded On-The-Sand upon the core principles of genuine and personable service, honesty, and going the extra mile. We have grown quite a bit since then and On-The-Sand has even been passed down a generation, but we still stand behind our core principles and take great pride in the quality of customer service we've given over the years. Our goal is that once you rent from us you will feel at home and make it a yearly tradition. Join the fun and let us help you plan your Oceanside beach vacation today!