Come visit the charming coastal city of Oceanside, California, where the amazing Sunset Market awaits! This vibrant, open-air market is not only a favorite for locals but also a must do outing for individuals vacationing in the area. Packed with an eclectic mix of vendors, delectable food stalls, live entertainment, and a spirited community atmosphere, the Sunset Market promises a memorable and delightful experience for all. Read on as we explore this treasure trove of of an event and uncover the hidden gems that make it a top-tier activity for visitors.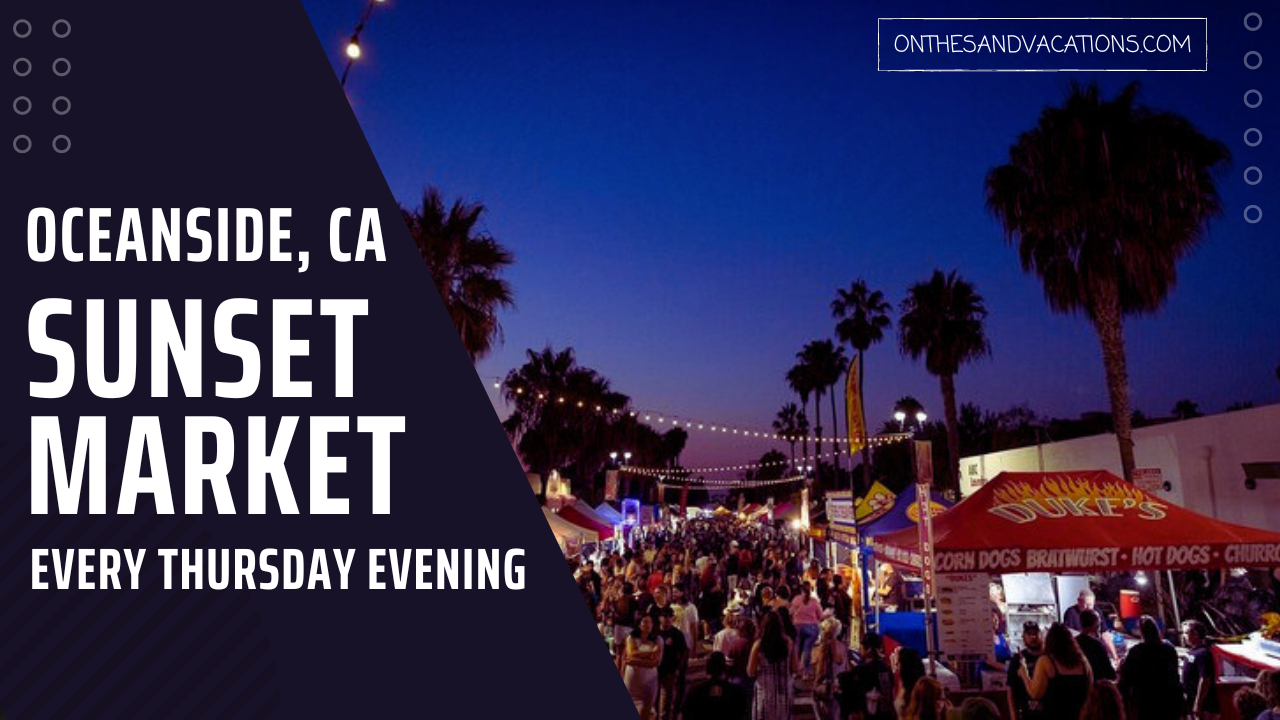 A Feast for the Senses
Did you know that the Oceanside Sunset Market is the largest gathering of food vendors on the entire West Coast?! From farm-fresh produce to mouthwatering street food to freshly baked desserts, the market caters to all taste buds. You'll want to make sure you come hungry and ready to savor the delectable options of cuisines ranging from savory tacos and juicy burgers to exotic Thai delicacies and Mediterranean delights. Then indulge your sweet tooth cravings with a cannoli made by a true Bostonian or freshly fried beignet. With every bite, you'll embark on a culinary adventure that will leave your tastebuds craving for more. Want more info on the different food at the Sunset Market? Follow our Facebook and Instagram accounts for weekly bite highlights.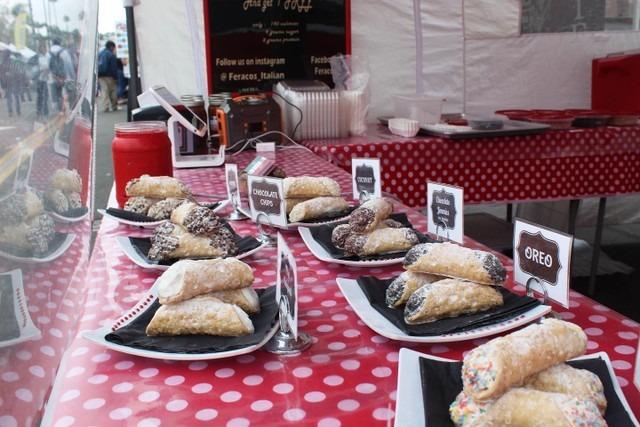 Shop 'til You Drop
The Sunset Market is a shopper's paradise, where you can find treasures around every corner. Browse through a diverse array of stalls offering handmade jewelry, artwork, clothing, and artisanal crafts. Support local artisans and bring home one-of-a-kind treasures that will forever remind you of your Oceanside vacation. Whether you're a shopaholic or just looking for unique souvenirs, the Sunset Market won't disappoint. Discover unique handcrafted items like ceramic pottery, bohemian-inspired clothing, or intricately designed jewelry. With such a wide variety of goods on display, you're bound to find something that catches your eye and captures the essence of this vibrant market.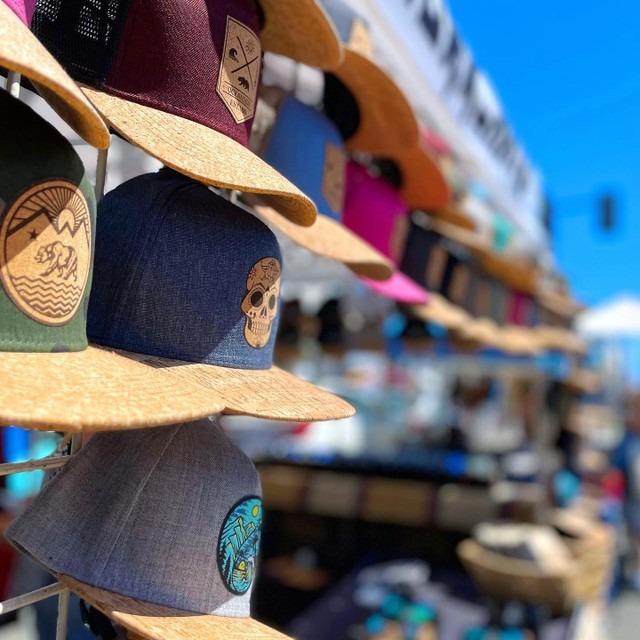 Entertainment Galore
At the Sunset Market, the fun doesn't stop at shopping and food—it's also a hub for live entertainment! Talented local artists take the stage, showcasing their musical abilities and adding to the lively atmosphere. From acoustic guitarists strumming mellow tunes to energetic bands belting out crowd-pleasing hits, the market offers a diverse range of musical genres to suit every taste. Sit back, relax, and enjoy the tunes as you sip on a refreshing drink, or let your feet lead you to the impromptu dance floor where locals and visitors alike groove to the beats.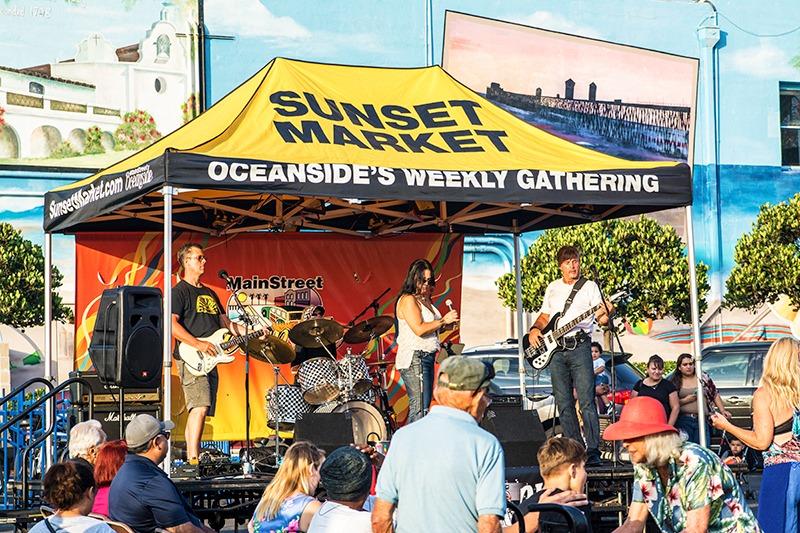 Family Fun and Kids' Zone
The Sunset Market is a paradise for families with children. The Kids' Zone provides a safe and exciting space where young ones can unleash their boundless energy. Watch as their faces light up with joy as they indulge in face painting, bounce on inflatable slides, and participate in interactive games and activities. Parents can have peace of mind knowing that their little ones are thoroughly entertained in a fun-filled environment
Soak in the Vibrant Atmosphere
One of the most endearing aspects of the Sunset Market is the vibrant atmosphere that spreads through the entire space. As you explore the market, you'll be greeted by friendly vendors, engaging conversations, and a sense of community that makes this market truly special. We love to strike up conversations with the artisans and creators, and learn about their craft and the stories behind their creations. It always leaves a sense of community in our hearts and gives us something unique to share when we talk to others about the market. We highly recommend taking the time to connect while enjoying your evening. Overall, the combination of the lively crowd, the sounds of laughter, and the scent of delicious food creates an experience that is unique to Oceanside.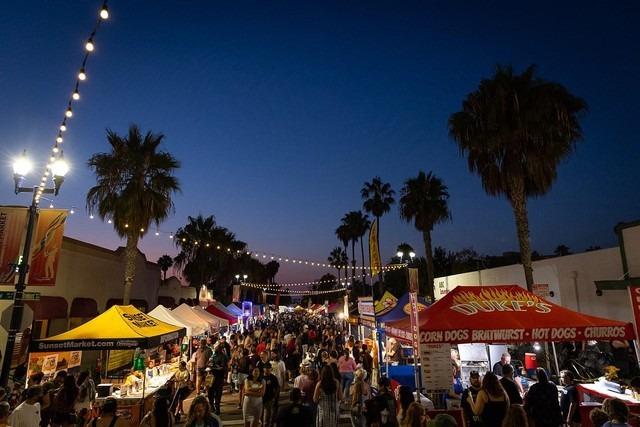 The Sunset Market in Oceanside, California, is a treasure trove of delights that promises an unforgettable experience for couples, families with children, and groups of all ages and sizes vacationing in the area. With its tantalizing food options, unique shopping opportunities, live entertainment, and a lively atmosphere, this market captures the essence of the city's vibrant spirit. So, come along, explore, and create cherished memories at the Sunset Market – where fun, food, and community combine for an extraordinary vacation experience!
Remember, no trip to Oceanside is complete without a visit to the Sunset Market!
Sunset Market
Every Thursday Evening (Year round)
5:00pm-9:00pm
Located on Pier View Way west of Coast Highway in Downtown Oceanside